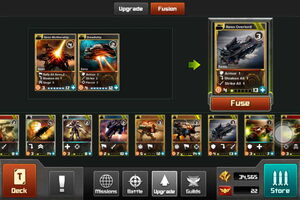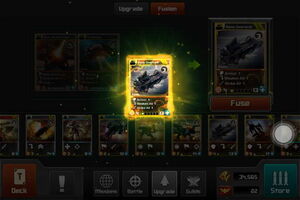 The basic concept of fusion is combining cards to create better cards. Fusion destroys the cards used, and there is no way to unfuse cards. All cards created by fusion are indicated with a green stripe on the top right corner, a green tinge on the edge of the card, and green upgrade pips. There are a limited number of recipes all of which follow a set of rules.
There must be at least two cards, and a maximum of three.
All cards must be fully upgraded
At least one card of the same rarity of the produced card must be consumed
All cards are of the same faction and fusion level
(With exceptions see: http://tyrantunleashed.wikia.com/wiki/Barracus_Redeemed)
You can view any fusion recipe you have ever had at least one material for.
Fusion Levels
Edit
All fusion cards have a level, equal to the level of the cards used to make it plus one. Unfused cards are treated as level 0. Each level of fusion significantly increases the power of a card.
Level 1 Fusions, also known as double fusions, are marked by a single green stripe in the upper right corner.
Since the Harvest Box, all new Event cards have been released with Level 1 Fusions.
Level 2 Fusions, also known as quad fusions, are marked by a second, brighter green stripe on top of the first one, as well as a green bar below the upgrade pips.
Since the Ancient Box, all new non-Progenitor Event cards have been released with Level 2 Fusions.
Upgrade Fusions
Edit
Many cards have Upgrade Fusions, which require 2 of the same card to produce a card one fusion level higher. Upgrade Fusions always have improved stats and skills, and never remove or switch which skills a card has.
For example, to fuse Sustained Nimbus, a Level 1 Fusion, requires 2 Nimbus. To fuse Nimbus Wonder, a Level 2 Fusion, requires 2 Sustained Nimbus.
Synthesis Fusions
Edit
Synthesis Fusions create new cards out of two or three component cards. The resulting card can have totally different stats than the component cards.
At the moment, only cards in the Standard set can be materials for Synthesis Fusion.
Synthesis Fusion Trees
Edit
Synthesis Fusion List
Edit
Structures
Edit
Community content is available under
CC-BY-SA
unless otherwise noted.