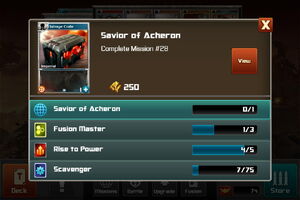 The Quest system grants rewards when specific goals are achieved. Clicking "!" button next to the Deck button shows a list of quests you can carry out.
Quests were implemented on Oct 15, 2013.
If you complete a quest that is not yet available to you, you will be rewarded when that quest becomes available.
The first four quests are Savior of Acheron (Complete Mission 8), Scavenger (Gain 5 SP), Warlord (Achieve 200 Battle Rating), and Rise to Power (Upgrade a card to Level 2).
List of Quests
Edit
Savior of Acheron
Edit
Complete specific missions:
Scavenger
Edit
Salvage cards to earn a specified amount of SP 

:
Fusion Master
Edit
Fuse:
for first card created via fusion:  250
for third card created via fusion :  250
for fifth card created via fusion :  25
Achieve a specified amount of Battle Rating 

:
Rise to Power
Edit
Upgrade a card to:
Kongregate to Victory
Edit
Create or log into an account on Kongregate.
 25
Boss Quests
Edit
Quests that task you with defeating difficult side bosses ten times.
Side missions released before 
Cyberius Recharged
Edit
Excelsitus Emerged
Edit
Jotun Revitalized
Edit
Halcyon Enraged
Edit
GDR Rebooted
Edit
Balefire Bolstered
Edit
Vitriol Vile
Edit
Mammon Mania
Edit
Fissure Ferocious
Edit
Pantheon Powered
Edit
Mutant Quests
Edit
Quests that task you with defeating extremely challenging bosses ten times.
Razogoth Mutant
Edit
Tyr Cannon Mutant
Edit
Albatross Mutant
Edit
Protomech Mutant
Edit
Miasma Mutant
Edit
Excelsitus Mutant
Edit
Serapherus Mutant
Edit
Daily PvP Quests
Edit
Each day, players are given three daily PvP quests at random - one easy, one medium, and one hard, drawn from the list below. Progress towards these quests can only be made on the Battle screen.
These Quests all reward
5 SP
Heal Adept: Activate Heal 25 times
Protect Adept: Activate Protect 25 times
Rally Adept: Activate Rally 25 times
Enfeeble Adept: Activate Enfeeble 25 times
Strike Adept: Activate Strike 25 times
Weaken Adept: Activate Weaken 25 times
Berserk Adept: Activate Berserk 25 times
Imperial Conquerer: Defeat 5 Imperial Commanders
Raider Conquerer: Defeat 5 Raider Commanders
Bloodthirsty Conquerer: Defeat 5 Bloodthirsty Commanders
Xeno Conquerer: Defeat 5 Xeno Commanders
Righteous Conquerer: Defeat 5 Righteous Commanders
Battler: Win 10 Battles
Attacker: Deal 500 Attack Damage
Death Dealer: Destroy 50 Assault Cards
These Quests all reward
10 SP
Imperial Killer: Destroy 50 Imperial Assault cards
Raider Killer: Destroy 50 Raider Assault cards
Bloodthirsty Killer: Destroy 50 Bloodthirsty Assault cards
Xeno Killer: Destroy 50 Xeno Assault cards
Righteous Killer: Destroy 50 Righteous Assault cards
Jam Adept: Activate Jam 25 times
Poison Adept: Activate Poison 25 times
Leech Adept: Activate Leech 25 times
Valor Adept: Activate Valor 25 times
Flurry Adept: Activate Flurry 25 times
Counter Damage: Deal 200 Counter Damage
Poison Damage: Deal 100 Poison Damage
Imperial Leader: Win 20 battles after playing 4 Imperial Assault cards in each
Raider Leader: Win 20 battles after playing 4 Raider Assault cards in each
Bloodthirsty Leader: Win 20 battles after playing 4 Bloodthirsty Assault cards in each
Xeno Leader: Win 20 battles after playing 4 Xeno Assault cards in each
Righteous Leader: Win 20 battles after playing 4 Righteous Assault cards in each
Hero: Win 25 Battles
These Quests all reward
15 SP
Destroyer: Destroy 500 Assault Cards
Frequent Attacker: Deal 5000 Attack Damage
Champion: Win 50 Battles
Demolisher: Destroy 15 Structure Cards
Bunkered: Win 20 battles after playing 3 Structure cards in each
Heal Master: Activate Heal 250 times
Rally Master: Activate Rally 250 times
Strike Master: Activate Strike 250 times
Weaken Master: Activate Weaken 250 times